YOU make the difference!
The transect would not have been possible without the participation of the more than 60 volunteers who came from all walks of life.

Some were students, others working people; all were moved to make a difference for Chek Jawa.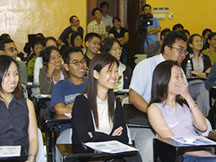 The volunteers made time (and brain space)
for three evening classroom sessions.

These gave a quick introduction to
the objectives and methods used
in the transect, and basic


flora and fauna identification.


Much notes were taken.

The classes turned out to be more fun than probably most would imagine they could be.