Fish farming and aquaculture

updated Jan 10
---
if you learn only 3 things about the issue...


Commercial fish farms can impact the surrounding habitats.


Find out where your fishes come from.


Eat less fish, don't throw fishes away.

Fish farms in Singapore
Singapore's consumption of fish is estimated to be 100,000 tonnes per year of which about 5% is accounted for by local foodfish aquaculture. This is mainly from coastal fish farms. They produce marine foodfish species like groupers, seabass, snappers and milkfish as well as green mussels and crustacean (shrimp/mangrove crabs). There are also freshwater foodfish farms producing snakeheads, tilapia, catfishes and carps and other cyprinids. From Aquaculture in Singapore on the AVA website

In 2010, there were 106 licensed coastal floating fish farms in Singapore, producing 3,235 tonnes of fish valued at $11.4 million in 2008. They accounted for 4-5% of the fish consumed annually in Singapore. From Plankton bloom hits Pulau Ubin fish farms Melissa Sim, Straits Times 2 Jan 10;
Why farm fishes?

Some broad goals of acquaculture
Reduce costs of searching, catching and transporting fish.

Stable and predictable supply of fish. Not necessarily achieved as mass deaths of stock can occur.
Reduce overharvesting of wild fishes. Not necessarily achieved as wild fishes are still caught, to feed the farm fishes.
Some effects of acquaculture
Parasites and diseases from farmed fish can spread to wild marine life.
Pollution of the surrounding waters by the following that escape from fish farms:

Drugs, including antibiotics, given to farmed fish to keep them healthy.
Excess and uneaten food given to farmed fish.
Wastes of farmed fish.

Non-native farm fishes which escape can threaten native wild fish.
Farmed fish are fed pellets made from other fish, depleting other fish species on a global scale. Often the small fishes which are daily staples of poor people are used as feed for larger farmed fishes which are sold as luxury items.
Setting up and running fish farms can physically impact the surrounding habitat.
No door-to-door trash collection is provided to any of the coastal fish farms licenced by Agri-food and Veterinary Authority (AVA). As a result dead fishes and other trash are dumped into the water. More details here.
What are some features of sustainable acquaculture?

"Ecologically integrated into the agricultural, industrial, and community fabric, meaning, for example, that wastes become fertilizers rather than pollutants. Additionally, these species are herbivores, so other fish species are not used in their production" From Aquaculture on the David Suzuki Foundation website.

What can we do about this?

Find out where your fish comes from.
Tell your supplier and supermarket you prefer fish from sustainable sources.
Eat less fish.
Eat what you take. Don't throw away fishes! (or any food for that matter). Many marine animals have died and people have suffered to put that fish on your plate!

See also impact of prawn farming.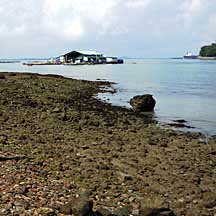 Fish farm off Lazarus and St. John's Island.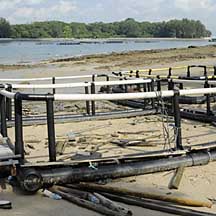 Fish farm equipment 'parked' on
Lazarus island shore.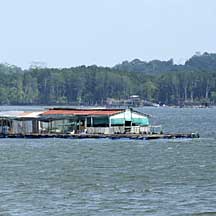 Fish farm off waters of Pasir Ris and Pulau Ubin.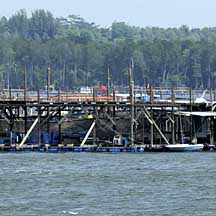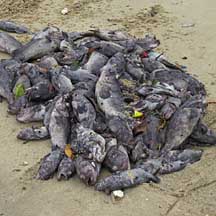 Mass death of farm fishes
Pasir Ris, Dec 09