Orange-spotted grouper
Epinephelus coioides
Family Serranidae
updated Dec 13
---
Where seen? Gaily spotted juveniles are sometimes seen on our Northern shores, among seagrasses.

Features: Adults to about 95cm. Juveniles seen are much smaller. The adult is brown with darker bars and small orange spots on the sides. It is found in coastal areas including estuaries, usually alone.

What does it eat? It eats small fishes, shrimps and crabs.

Human uses: It is among the common fishes eaten in Singapore. Here, these fishes are sometimes reared in floating cages from fingerlings (young fishes) that are imported from neighbouring countries, until they reach marketable size.
Chek Jawa, Nov 01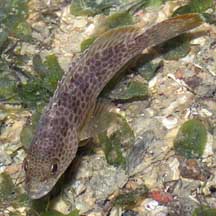 Pulau Sekudu, Apr 06