Milk-spotted pufferfish
Chelonodon patoca
Family Tetraodontidae
updated Oct 2016
---
Where seen? This pretty spotted fat fish is sometimes seen on our Southern Shores. One was seen half-buried in a sandy stretch at Tanah Merah near a freshwater outflow. Elsewhere, it is common in estuaries and shallow waters, in sand flats, mud flats and seagrass meadows, often in schools. Juveniles are common in mangroves,

Features: Grows to about 33cm, but those seen were 8-12cm. The nasal organ has a pair of elongated flaps. It has a grey or brown back with large round or oval white spots. It has a yellow band along the lower side from chin to tail. The underside is white. Those seen had yellow tails.

What does it eat? When small it feeds mostly on detritus, as it grows, it transitions to a diet of animals that live on the ground.

Human uses: Although it is toxic (gonad, liver, flesh and skin), it is considered a delicacy in Japan.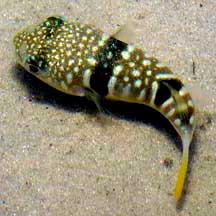 Labrador, Jul 05