Bayer's flatworm
Nymphozoon bayeri
Family Pseudocerotidae

updated Oct 2016
---
Where seen? This bold black-and-white flatworm is sometimes seen encountered on coral rubble near living reefs.

Features: 5-8cm long. Usually with deep ruffles. Body dark grey or brown. Distinguished by wide black margin with inner bright white margin. Along the middle of the body, one wide black stripe bordered on both sides by a continuous white edge. Underside uniformly greyish with whitish margin next to black outer margin. It has a pair of erect pseudotentacles at the front made up of folded edges of the body.

Sometimes mistaken for the Pleasing flatworm (Pseudobiceros gratus) which is more brown and does not have inner bright white margins.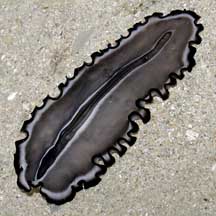 Pulau Hantu, Apr 06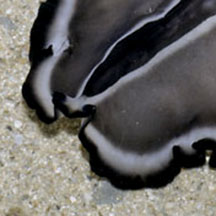 Head with pseudotentacles.