Scintillating flatworm
Pseudoceros scintillatus
Family Pseudocerotidae

updated Oct 2016
---
Where seen? More often seen by divers. On the intertidal, this tiny flatworm is sometimes seen on our reefs, mostly in the South.

Features: 1cm long. Body usually with white ovals of various sizes on a dark background. Edges bright orange.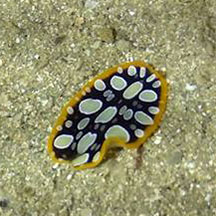 Chek Jawa, Jul 18

Photo shared by Choo Yi Feng on
facebook
.