White flatworm
awaiting identification
Family Pseudocerotidae
updated Feb 14
---
Where seen? Sometimes seen on remote reefs.

Features: 3-4cm long. Body plain white. Marginal bands broad black, orange to transparent grey at the outermost edge. With black edges on the pseudotentacles.

A flatworm that looks similar in Newman and Cannon's book is labelled as Pseudoceros sp. 8. The South-west Indian Ocean Flatworm site has a similar flatworm that is identified as Pseudobiceros cf. confusus.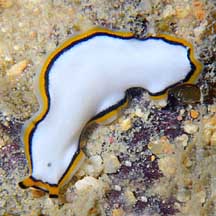 Pulau Biola, Dec 09

Photo shared by Loh Kok Sheng on
his flickr
.