Straits Times 23 Apr 07
Tommy Koh's green mission: Save 2 species
Top diplomat getting Zoo's help to save monkey and squirrel unique to Singapore
By T. Rajan

VETERAN diplomat Tommy Koh has a new mission - to bring two species unique to Singapore wildlife back from the brink of extinction.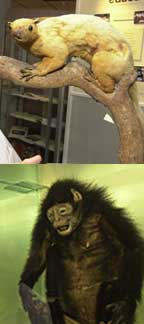 With the help of the Singapore Zoo, Professor Koh hopes to boost the island's population of about 20 to 30 banded leaf monkeys (photo below) by getting them into the Zoo's successful primate breeding programme.

His other target is the cream-coloured giant squirrel (photo above), of which there are believed to be less than 10 left in the wild, mainly in the forests of the Central Catchment Area and Bukit Timah Nature Reserve.

But Prof Koh, who received the United Nations Environment Programme's Champion of the Earth Award last year, is not giving up.

'It is important to save these animals because they are unique to Singapore and symbols for us to preserve our biodiversity.'

Speaking to The Straits Times on the sidelines of a symposium on Singapore's biodiversity, held to mark the International Day for Biological Diversity yesterday, Prof Koh said he also wants to push for Asean to adopt the flying lemur - or colugo - as its mascot, given that it is found only in the 10 member countries.

Professor Peter Ng, director of the Raffles Museum of Biodiversity Research (RMBR), said he felt Prof Koh has chosen the two animals that are the ultimate challenge for conservationists.

While it may still be possible to catch and breed the reclusive banded leaf monkeys, saving them would be a big challenge, he said. 'They are very shy, live high on the treetops and never come to the ground. Catching them could kill them and we don't even know if they will be able to survive in captivity.'

The once-abundant cream- coloured giant squirrel's hope for survival is bleak, Prof Ng added, as there are probably too few left to breed. The destruction of its forest habitat and hunting have made it possibly, Singapore's rarest vertebrate.

The Singapore Zoo will be happy to assist in any conservation efforts aimed at saving the two species, said its executive director, Ms Fanny Lai.

She added: 'Coincidentally, we are also expanding our husbandry and veterinary expertise with the intention of keeping and breeding banded leaf monkeys in the Singapore Zoo in the near future.'

The three-hour-long symposium at the Botanical Gardens' Botany Centre was organised by the National Parks Board and RMBR.

---
links
More about these highly endangered mammals on the wildlife singapore website
Banded Leaf Monkey
Malayan Colugo

Checklist of Singapore mammals (PDF) on the NParks National Biodiversity Reference Centre website.

Past media articles about these two animals
Living sanctuary The Straits Times 9 Aug 05

I pick my battles The Straits Times 9 Aug 05

Singapore's last unique animals face extinction: PlanetArk 19 Apr 05

Singapore has lost half its animal species: study By Chang Ai-Lien The Straits Times 24 Jul 03

Going... Going... Gone? Urbanisation could mean the end of two breeds of mammals unique to Singapore, once common in the rainforests here
By Chang Ai-Lien The Straits Times 8 Apr 02

Related articles on Singapore: biodiversity