Mangrove horseshoe crab
Carcinoscorpius rotundicauda
Family Limulidae

updated Oct 2016
---
Where seen? This is the smaller of our horseshoe crabs and it is sometimes encountered in mudflats and mangroves and shores near them.

Features: Diameter to about 15cm. The circular shell is brownish. Identified by shorter spines on the side of the body, the tail is circular in cross-section near where it joins the body, without a groove on the underside and without spines on the upperside. The male's special legs for holding on to the female has two 'fingers'.

The underside is sometimes encrusted with Flat slipper snails (Crepidula walshi) and bryozoans.

Sometimes confused with the Coastal horseshoe crab (Tachypleus gigas). More on how to tell them apart.

Status and threats: This horseshoe crab is listed as 'Vulnerable' in the Red List of threatened animals of Singapore. According to the Singapore Red Data Book: "It is still relatively common in intact mangroves, and should survive as long as there are enough such habitats conserved."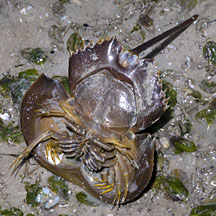 Using its tail to flip over to the right side

Changi, Jun 05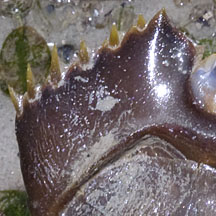 Spines on the side of the body shorter.