Egg strings and coils
updated Oct 08
---
if you learn only 3 things about them ...


Egg strings contain living eggs or tiny animals. Don't disturb them.


Egg strings are found on stones and among seaweeds. Watch your step.


Please don't bring egg strings home. Thousands of baby animals may die.


Where seen? These noodle-like egg masses are sometimes seen among seagrasses and seaweeds in clumps.

Features: Some may be large, about 0.3cm wide, very long and noodle-like. These may be laid in clumps among seagrasses and seaweeds, on on rocks and hard surfaces.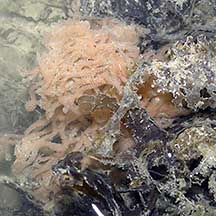 Among seaweeds.

Pulau Semakau, Sep 05