The Straits Times 29 Nov 06
Southern Islands may be next big tourist attraction
One plan being considered: Make them a getaway for the rich
By Krist Boo

Channel NewsAsia 29 Nov 06
STB plans to develop Southern Islands into tourist attraction
By Jeana Wong

Today Online 29 Nov 06
Kusu: Playground of the rich?
Tourism Board looks into ideas to develop S'pore's six southern islands to attract the super-rich
Ansley Ng

The Business Times (Singapore) 29 Nov 06
Southern Islands could be premium resort: STB
Super-exclusive haven for billionaires, location for third casino are some possibilities
By ARTHUR SIM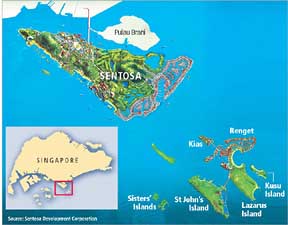 (SINGAPORE) The Singapore Tourism Board (STB) could launch a Request for Concepts (RFC) for the Southern Islands as early as the first quarter of 2007 - setting the ball rolling for a resort, or even super-exclusive haven for billionaires.

Speaking at LeisureInvest Asia 2000 conference yesterday, STB's assistant chief executive for brand and communications Ken Low said the Southern Islands could be developed into a 'premium' resort and an RFC could be launched in early 2007.

In a statement released later, Mr Low said: 'The Singapore Tourism Board is exploring more opportunities to develop the tourism landscape in Singapore beyond the two integrated resorts. We will reveal more details in the first quarter of next year.'

STB's director of Leisure Planning Kok Ping Soon said the board has been working with other government agencies on how best to use the Southern Islands. Although this is still at the exploratory stage, he said concepts could include eco-tourism or cultural tourism.

But he added: 'We do not want to dissipate tourism all over Singapore.'

Although a timeframe for development has not been made public, Mr Kok said plans for the Southern Islands are tied to STB's target to attract 17 million visitors 2015.

The Southern Islands include St John's Island, Kusu Island, Lazarus Island, Sisters' Islands, Renget and Kias. Together they add up to about 140 hectares of land.

This is not the first time development plans have emerged for the islands. In March 2004, then-Minister for Trade and Industry George Yeo said the cluster of islands was being considered as a location for a casino, with a possible bridge linking them to Sentosa.

Although plans for this were sidelined after Marina Bay and Sentosa were confirmed as the casino locations, discussions - under the radar - appear to have continued.

Sources say ideas that have been bandied about include a haven for billionaires. Only 300 housing plots would be sold, with an additional 100-room luxury hotel to serve guests and residents. Access would be private yacht only.

Whether STB would consider offering a third casino licence to any developer of the Southern Islands - after the 10-year moratorium on the first two licences expires - is not known.

Analyst Jonathan Galaviz of Las Vegas tourism and gaming consultancy Globalysis says a casino licence would be welcomed by any investor or developer, although it may not be necessary.

According to Mr Galaviz, development on the Southern Islands could feed off the tourism generated by the two upcoming IRs, but the entertainment value of the islands would have to be developed to attract repeat visits.

One possible reason for resuscitating plans for the Southern Islands could be the runaway success of Sentosa Cove, where residential property prices have increased 75 per cent since the first homes were sold there three years ago.

Apparently, nothing stands in the way of developing the Southern Islands, except that parts were made conservation areas under the Urban Redevelopment Authority's Green Plan of 1993.

Reclamation to connect some of the Islands has been completed. It is not known if more reclamation will be required.

The chairman of the Nature Society's marine conservation group Leong Kwok Peng said: 'Where there is reclamation, there is bound to be issues with conservation.' 'Siltation and sedimentation from reclamation' have an adverse effect on coral reefs and marine life, he said. Reclamation has already claimed 65 per cent of Singapore's coral reefs, according to him.

'Right now we don't have a marine park, and the reason is that the land is too precious.'

The value of the land will be the determining factor, and the director of marketing and business development at Savills Singapore, Ku Swee Yong, sees the Southern Islands as a 'natural progression of Sentosa Cove'.

But Knight Frank director of research and consultancy Nicholas Mak said the Southern Islands are 'not exactly the Maldives', so success is not guaranteed. He also said a resort without a casino might not work, as other attractions might not draw a critical mass.

The Straits Times 29 Nov 06
Southern Islands may be next big tourist attraction
One plan being considered: Make them a getaway for the rich
By Krist Boo

RIDING on the global interest stirred by its upcoming gaming resorts, Singapore is rolling out its next mega-tourism project - centred on the Southern Islands. The Singapore Tourism Board (STB) is out to woo investors to develop the cluster of six islands near Sentosa into a hot new destination, perhaps aimed at well-heeled tourists.

The STB is seeking ideas on how exactly to develop the islands, said Mr Kok Ping Soon, its director for sector planning.

It may be difficult to develop the islands as a mass market tourist destination because they lack a land link to the main island.

Instead, a plan is being considered to turn them into a getaway for the rich.

The Southern Islands - Kusu, St John's, the Sisters' Islands, Kias, Lazarus and Seringat - draw at least 100,000 visitors a year, and have been said to have the potential to be similar to Italy's Isle of Capri, a marine village, or Dubai's The Palm island, a development for the ultra-wealthy.

Now that reclamation works on the Southern Islands are almost complete, the STB is setting its sights on developing the cluster by 2015, the year it has to hit its target of 17 million annual visitors and $30 billion in tourism receipts.

The STB is also out to stir up investor interest in another mega-project: the development of a new cruise centre at Marina South. It wants a new centre that is larger than the terminal at HarbourFront, which industry players say is inadequate for Asia's growing appetite for cruising.

Last year, the HarbourFront centre saw 623,740 passengers. This year, the number will likely cross 850,000. With cruise terminals seldom being lucrative ventures, the Government is sweetening the deal by offering investors the option to build hotels, shops and entertainment draws at the site. A feasibility study on the Marina cruise centre is under way.

Mr Ken Low, STB's assistant chief executive for brand and communications, said the cruise terminal will stimulate the development of Marina South.

The STB said investors may be invited next year to tender for both projects. If so, the process will be similar to the one used to award the two integrated resorts (IR), but perhaps with less intensity.

Mr Kok told reporters the response from potential investors has been encouraging. 'Every one is taking a second look at Singapore. Some of this increased confidence in Singapore as a leisure investment location can be attributed to our decision to proceed with the two integrated resorts,' he said on the sidelines of the Leisure Invest Asia 2006 conference yesterday.

The push to develop another two major tourism projects went down well with one contender for the Sentosa IR resort.

Genting International's chief financial officer Tan Hee Teck said: 'The more things you put into a place, the better it is. People will see it as a more desirable destination.' Besides the two projects, investment opportunities also abound along the Singapore River, Orchard Road, and the HarbourFront area, said the STB's Mr Low.

And there is no better time to take the plunge, with Singapore at the centre of a tourism boom in Asia, fuelled partly by new budget airlines. Visitor arrivals here are on track to hit a new record this year. Last month, arrivals reached 857,000, a 15 per cent rise over the same period last year. It was the best showing yet for the month of October.

Channel NewsAsia 29 Nov 06
STB plans to develop Southern Islands into tourist attraction
By Jeana Wong

SINGAPORE: The Singapore Tourism Board (STB) plans to develop the six islands off the southern tip of Sentosa into a tourist attraction.

This, as its $12b Sentosa masterplan -- which includes Harbourfront and the Southern Islands -- is expected to be completed ahead of schedule in 2010.

The comment came on the sidelines of an industry conference where STB also revealed that Singapore is set to welcome another record number of visitors this year.

The STB wants to tap on the momentum of the Sentosa integrated resort bid and extend investor interest to the islands nearby.

Exploring the potential of developing land around the Marina Bay and Sentosa areas, the STB concluded that enhancing the lush greenery and natural foliage of the Southern Islands will make them irresistible as a tourist destination. The Southern Islands include the Sisters' Island, Kusu Island and St John Island.

The agency says the Southern Islands already boast a Chinese temple, natural ecosystems and a resort-like atmosphere. So it is conceivable to turn some of them into a resort island, a cultural site or an interactive rainforest park.

Designers say there is a trend towards mixing education and entertainment when it comes to creating a tourist destination that leverages on the natural resources of a given place.

They say the Southern Islands have the potential to become such a themed destination.

Citing Hamburg's Regenwald House, Shawn McCoy, Marketing Director of Jack Rouse Associates, said: "There's a great project in Hamburg called the Regenwald House. Basically, it's a rainforest where you walk through and you can interpret some of the flora and fauna that are there. Everything, from audio wands to rain sequence - so it rains on you. It's manufactured, sure it's synthetic but you're actually learning about the natural environment."

STB expects to announce details for the development of the Southern Islands and seek request-for-concepts as early as next March.

Total investment in Sentosa alone reached S$3.1 billion in the fiscal year ending in March. This is a 68% increase compared to a year ago.

On tourist arrivals, STB says Singapore is expected to receive its 9th million visitor anytime now. This will set a second consecutive year of record high for tourist numbers. Singapore welcomed 8.94 million visitors in 2005. - CNA/ir

Today Online 29 Nov 06
Kusu: Playground of the rich?
Tourism Board looks into ideas to develop S'pore's six southern islands to attract the super-rich
Ansley Ng ansley@mediacorp.com.sg

THEY are now visited by pilgrims, campers and nature lovers. But if the Singapore Tourism Board (STB) has its way, six of Singapore's southern islands could soon turn into a playground for the super-rich from all over the world.

The tourism authority is inviting ideas early next year from developers to turn the islands into a private resort destination for wealthy, or "premium plus", tourists.

The cluster of islands--Kusu, Sister's, Lazarus, St John's, Tekukor and Kias and Renget--are about 6km off the southern tip of Sentosa. A haunt of marine and diving enthusiasts, the islands--which boast a Chinese temple and natural ecosystems--have a combined area of 140 hectares, some five times smaller than Sentosa.

"Much of the islands are largely vegetated, with several good beaches on the Renget, St John's and Kusu islands," said STB assistant chief executive for brand and communications Ken Low at a tourism conference yesterday.

"We hope that the eventual concept will leverage off this natural beauty for a resort development that will not only provide a relaxing discreet experience for the discerning traveller, but also serve as a motivating factor to drive the premium-plus visitors into Singapore."

The STB, which promoted the potential of the islands at a roadshow in Hong Kong in September, could launch a formal Request for Proposals (RFP) late next year if there is strong interest. The RFP stage usually follows the request for concepts (RFC) round, which could kick off in early 2007.

But while STB officials are tight lipped with details, urban planners have apparently planned this 10 years ago.

According to an Urban Redevelopment Authority's (URA) Southern Island Planning Report in 1996, Lazarus Island would be turned into a "canal laced marine village resort". Reclaimed land would make space for "low density" residential development, marinas and beaches, according to the report. The report, put together by 13 government agencies with the Sentosa Development Corporation, included drawings of the islands.

It was not clear how strictly potential developers would have to adhere to the report, which already has several points superseded by the Master Plan 1998, a national development blueprint.

But analysts had some ideas in mind. Donald Han, managing director of property consultancy Cushman and Wakefield, said the project could model itself after The World in Dubai, which is a cluster of man-made islands off the coast of the affluent United Arab Emirates city. Each island at The World costs between US$6.85 million and US$25 million, and buyers include entrepreneur Richard Branson and footballer David Beckham.

"A viable concept would be to run it as a spa resort operated by a high end operator, targeting tourists coming from the mainland," said Mr Han.

But Knight Frank's director of consultancy and research Nicholas Mak said the kind of activities on the islands would be limited by geography. He said: "In Maldives, you see clear blue waters all the way to the horizon. In the southern part of Singapore, you see container ships and ferries that come and go to Batam. The atmosphere is different and the water is different."

But like Mr Han, he agreed that the islands have potential to host high-end resorts, such as the Banyan Tree resort in Bintan, complete with posh restaurants. "It would be a waste to put a golf course there. They could have resorts and spas," he said. "It could provide weekend getaways with spas and fine-dining."

As the islands can only be accessed by water, another feature of the project could be a marina similar to what Sentosa Cove is offering. But Singapore could be too small for so many yachts and boats, said Mr Mak.

"I don't know which part of Singapore they can sail to before they run into international waters," he added. "It would be interesting to see the kind of concepts that comes out of this."

---
links
Road to link Sentosa to St. John's Island?
by Teh Jen Lee, The New Paper, 31 Mar 04
Plans for the Southern Islands
Visibility problems

Sentosa's S$7-billion Redevelopment Plan 2012 from the Sentosa Development Corporation website

Singapore's Capri St John's, Lazarus and Renget islands to be reclaimed and developed after Italy's Capri. It was assured that 80% of the southern islands "will remain in its natural state". An S$280 million project targetted for completion in 2007. more details... "Islands get new lease of life" Jun 29 2000

URA's plans Southern Islands Planning Report 1996 with a summary of the plans for the statutory exhibition: "More than 70 per cent of Sentosa's greenery will be kept. Most of the natural environment in St John's Island, Kusu Island and the Sister's Island will also remain unspoilt."

More media articles about plans for our Southern Shores

More about our Southern Shores info for visitors, what's there, links to fact sheets on individual islands.

Related media articles on Sentosa IR