Plans to 'build a reef' at Hantu: some issues
updated 3 Jun 06

"Singapore Underwater Federation ... aims to build a coral reef in the lagoon enclosed by Pulau Hantu" media reports

Their publicised plans include the following, which raises some questions...

Census of Hantu and our reefs
SUF will "conduct the largest census of marine biodiversity undertaken here"
ST 31 Mar 06
How will the SUF census be different from the surveys of all our reefs that are already ongoing and for which data is already available online? more

How will this reef be 'built'?
"They are also planning to move corals from other reefs to the island."
CNA 30 Mar 06
Past coral relocation efforts in Singapore: have they worked? more
Where are these 'other' reefs from which corals will be taken?

"Plans are under way to create a simple sand filtration system to eliminate most of the sediment from the water flowing into the lagoon, creating a clear water habitat." ST 31 Mar 06
Does this mean the 'built reef' will be isolated from the surroundings? (in effect, a giant aquarium). Filter-speak: What does filtration involve? What are the risks to the habitat?

Where will this reef be located on Pulau Hantu?
Location of 'built reef' is as indicated below...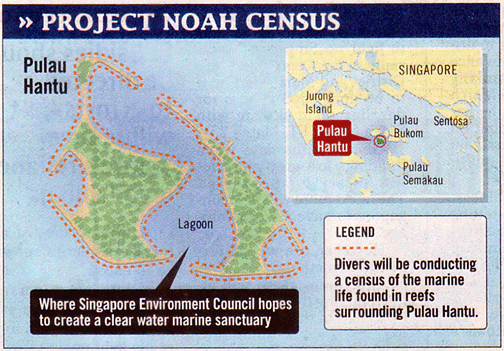 Pulau Hantu is made up of two smaller islands: Hantu Besar and Hantu Kecil.

The map provided in the media (above) suggests there these two islands are well separated and that there are corals around each of the smaller islands.

In reality, there is a shallow lagoon between the two islands. At low tide, this lagoon is exposed out of water. At high tide, the water reaches about 1.5-2m in height on average. This allows comfortable and safe swimming. While snorkelling is possible, diving is not practical in the lagoon as it currently is.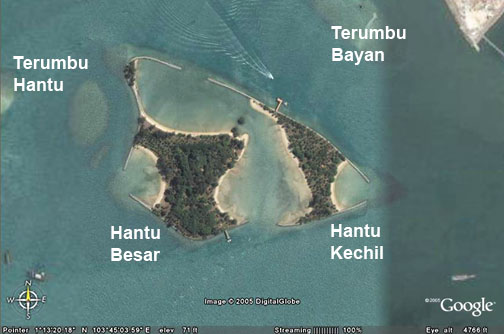 Coral reefs have regenerated outside the man-made seawalls. There are several submerged reefs near Pulau Hantu. These are called 'terumbus'.This lagoon and the reef flats are already teeming with marine life.

What is the state of marine life on Pulau Hantu today?
Webpages with photos of what you can see at Pulau Hantu right now.

To 'build' the reef in this lagoon will probably involve extensive changes to the depth of the lagoon. What will impact be on existing marine life there and in the surrounding reef flats and terumbus?

Other issues...
"The divers, however, face a difficult task because of poor visibility caused by silt suspended in the water. It can be so bad that 'you have to bump into coral to notice them', said Project Noah manager Spencer Lewis." ST 31 Mar 06
Will SUF divers involved in the census be properly trained so as not to damage our reefs as they do their census? See also Cashing in on Corals about studies on the damage caused to reefs by divers who touch corals.

(The visibility in our waters is not always that bad. In fact, the vis at Hantu can be quite good and may be among the best of our Southern islands, see chart below and discussion of viz on the habitatnews blog thanks to Siva for the alert.

Professionals, scientists and regular divers in our waters generally know how to manage underwater activities without damaging our reefs. They would certainly not 'bump' into corals to find them).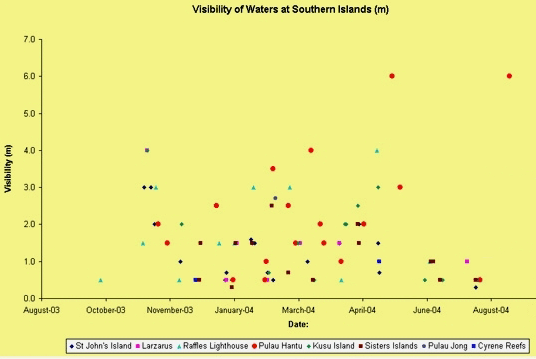 "Mr Chew emphasised that 'the lagoon isn't just for divers', saying: 'It's for anyone who wants to get wet and enjoy our marine life.'" ST 31 Mar 06
How will the created reef be managed? In particular, will the impact on the reef and surrounding habitats be well managed?

"Mr Lewis sees the likelihood of Project Noah developing into a lucrative business" BT 31 Mar 06
What will the environmental impact be if the 'built reef' is run as a commercial enterprise? Cashing in on corals: impact of divers and boaters on reefs some extracts of studies done on the issue.

Who are the project leads? What are their interests in the project?
More about why this is vague in the reports of the SUF briefing. In the press release (PDF file), Sydney Chew was identified as Managing Director of Aquos Pte Ltd and SUF member. Here is the ACRA printout (PDF file) about the company.

What are the issues in evaluating a proposal to reef rehabilitation?
See this PDF document on the Reef Check website "Beware Hype on Artificial Reef Rehabilitiation" a document of the International Coral Reef Initiative which in summary states, among others, that

"The most effective mechanism of rehabilitating coral reefs is through mitigation of chronic human disturbances (e.g. sedimentation, pollution and over-fishing), thereby facilitating natural recovery mechanisms and building resilience, to any further disturbances, that will be effective over large areas";

"In addition to effectiveness considerations, construction of any engineered structure on a coral reef must be evaluated against any potential environmental damage caused during construction or later degradation"

"Some innovative and new approaches to coral reef conservation and management may have limited applications, there have been insufficient peer-reviewed, long-term scientific studies of reef rehabilitation using these techniques and few cost-benefit analyses to assess effectiveness of the methods over natural recovery processes."

"Governments, international agencies, NGOs and other parties [are advised] that they should carefully examine claims from commercial and non-commercial groups selling or proposing 'engineering' solutions for coral reef rehabilitation and to seek advice recognised scientific bodies before investing in risky, unproven and expensive engineering techniques which may exacerbate environmental damage and divert funds away from more effective measures"
---