What marine life can we see on Pulau Hantu?
click on the red dots for photos for each location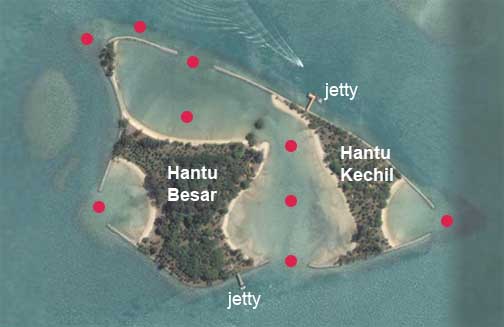 Pulau Hantu has representatives of the major intertidal ecosystems: sandy shores, seagrass areas, coral rubble and coral reefs. It even has a tiny patch of mangroves. Despite its very close proximity to industrial installations, the reefs and shores of Pulau Hantu are teeming with life.

Pulau Hantu is made up of two smaller islands:
Hantu Besar (Big Ghost) and Hantu Kechil (Little Ghost).

These two little islands are connected by a shallow lagoon in between them. At low tide, this central lagoon is exposed out of water. At high tide, the water reaches about 1.5-2m of water on average, for comfortable and safe snorkelling and swimming.

This lagoon has a northern portion and a southern portion.

The northern portion has sandy shores, seagrasses, corals and other animals growing quite extensively into the lagoon. It flows out into a rich reef flat that extends around and outside the seawall.

The southern portion has corals near the 'mouth' of the seawalls, which grade into the reef flats growing outside the sea wall that extend to below the jetty on Hantu Besar. The centre of this portion has hard corals, tape seagrass and sandy and silty sections.

In between the northern and southern portions are some mature mangrove trees and silty sand with the usual interesting animals found in such habitats.

Hantu Besar and Hantu Kechil each also has a small man-made lagoon on the west and east side respectively.

Coral reefs have regenerated outside the man-made seawalls. These now form interesting reef flats. The most extensive and richest are on the northern side of Hantu Besar. There are also reef flats near the jetty on the southern side of Hantu Besar and eastern side of Hantu Kechil.

Pulau Hantu is surrounded by underwater reefs.

More about plans to 'build a reef' on Hantu and the issues this raises.

---
links to other photo galleries
Dr Chua Ee Kiam's gallery of intertidal Hantu
Photos of Hantu by David Tan on Diver's Dreams
Last survey of Hantu's fringing reefs before reclamation of Bayan begins. Poignant photos on the Hantu blog
Surveying a Sanctuary the water may not be clear but there are clearly LOTS of corals and marine life for those that will see. Fab photos on the Hantu blog