Conservation status: The natural western part of Sentosa is listed for use as 'Sports and Recreation' in the URA Master Plan 2008, i.e., "Area to be used or intended to be used mainly for sports and recreational purposes" and listed as 'Park/Open Space' in Parks and Waterbodies Plan.

Current conservation activities: Since 2006, TeamSeagrass with NParks has been monitoring seagrasses at Sentosa. Some school and scientific work is also done ocassionally on these shores. The intertidal area is also regularly surveyed by wildsingapore.

History: Sentosa Cove was built by reclaiming Buran Darat and nearby reefs in 1991. The reclamation increased the size of Sentosa island by nearly 25%. Photo below from Vision of Sentosa Cove on the Sentosa Cove website.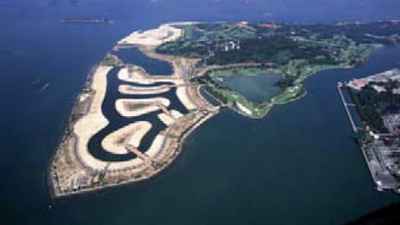 Northern reefs were reclaimed in 2007 for Resorts World Sentosa.

In 2012, a 'security barrier' of floating blue drums was installed on the natural shores of Tanjung Rimau Sentosa. In Jun 2013, the drums were observed battering the rocky shore and reefs there. In Aug 2013, the blue drums started to disintegrate.
About the name: Originally called Pulau Blakang Mati Blakang=Behind; Mati=Death, thus 'Island Where Death Lurks', possibly referring to the gruesome deaths there including the massacres during WWII. When the island was developed as a tourist destination, this was changed to a more propitious name; Sentosa=tranquility.