Labrador Nature Reserve
16ha, forested area with natural shore adjoining a developed park and promenade.

---
Uniquely Singapore! The reefs of Labrador are only minutes from the city centre! More about our city reefs.

The last coral reef on the mainland
This 16ha Reserve includes a coastal hill forest overlooking a natural rocky shore which has the last coral reef on the mainland. There are also short stretches of lush seagrasses. Exploring the shore, you may spot strange sea anemones, fast fishes and odd nudibranchs. Among the living corals are seahorses, octopus and other amazing marine life. More on what marine life you can see on Labrador Beach.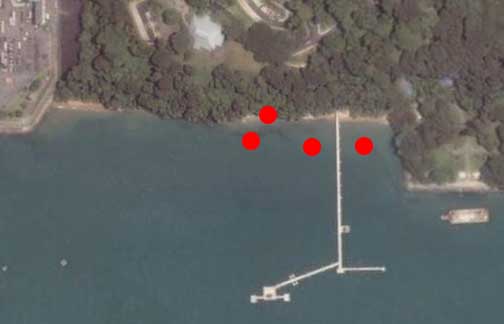 Unfortunately, this shore has been reduced by development and is threatened by poaching.

No poaching please
Labrador Nature Reserve is protected. Poaching of hard corals and other sealife threatens this precious shore. Report poachers to NParks at 1-800-4685736.

A wondrous forest
Labrador hill is cloaked in secondary forest with interesting plants and animals. An aerial staircase along the cliff side provides a panoramic view of the coast and a closer look at the flora and fauna.

Rich in history too
The Reserve is also famous for its many historical sites of WWII bunkers and other relics. The history trail with lots of informative signs captures the history of the fort and the war where visitors can view a casemate (war bunker) and tunnels in the Reserve.

A favourite shore for students being the last mainland rocky shore and reef, Labrador shore is often studied by students of all ages.

A pleasant retreat for the family
Besides the natural areas, there is a manicured park with barbeque pits, fitness corner, jogging and cycling trails and a promenade along the shore.

History of Labrador
Labrador was one of the five designated nature reserves established in 1951. But in 1973, it was downgraded to that of a nature park. On 10 Nov 01, it was announced that Labrador Park would be gazetted as a Nature Reserve, which came to pass on 1 Jan 02.

More tips for visitors
NParks has closed the Casemate, Rocky Shore and Jetty for safety.

Carpark A is at the top of the hill and leads to the historical sites and the top of the aerial staircase that leads down to the shore and the Reserve proper.

Carpark B is at ground level with access to the Reserve proper, the promenade. The shore is about a 10-min walk on level ground from this carpark.

More about preparing for a trip to the shores
More FAQs about visiting the shores
How to take photos on the shores.