Quarries in Ubin

---
Granite quarrying was once a major industry on Ubin. The first quarry was started in the 1800's. Ubin's granite was used to build the Horsburgh Lighthouse and Raffles Lighthouse, the two extreme points of Singapore's territory. And, by some accounts, the Causeway linking Singapore and Malaysia as well.

In the 1990s, Aik Hwa Granite Quarry supplied about 30-40% of Singapore's requirements. Granite from Ubin was used to make concrete and for reclamation. The granite industry attracted a large population on Ubin (at one time, Aik Hwa Granite Quarry employed about 100 workers, most of whom stayed on Ubin). And a wide range of supporting cottage industries on Ubin.

Quarrying, however, ceased once the granite was mined to below sea level. The Resource Development Corporation (RDC) Quarry closed down, shortly followed by Aik Hwa Quarry, which was the last quarry to close in 1999. With the closure of granite quarrying, the number of people living on Ubin dwindled, to about 1,200 in 1980 to 400 by 1995. Most residents now farm or fish or cater to the quiet tourist trade on the island.

The abandoned quarries at Ubin are now filling up with rainwater and the natural vegetation is recovering around their edges. Fish have somehow appeared in some of them, attracting birds such as herons. Although the quarries are now quite scenic, they remain dangerous places. Swimming and other activities near them should be avoided.

In Apr 07, plans were announced to reopen Kekek Quarry, see media articles below for details.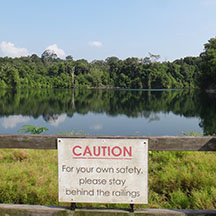 Quarries are beautiful,
but don't get too close.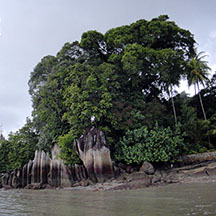 Granite on Pulau Ubin sculpted
by Mother Nature. .