Temples and shrines of Ubin
---
Thai Temple: at the end of the Western route, this temple was a popular destination for visitors but it was relocated due to plans to reopen Kekek Quarry. More on the Ubin Stories blog.

German Girl's Shrine holds the remains of a German girl who died in 1914 when she accidentally fell off a steep cliff whilst running away from the British who had come to take over the plantation. It is said that her body was discovered the next day, covered in ants and buried at the beach where she was found. The villagers kept seeing her ghost so her remains were moved to a nearby Chinese shrine and kept in an urn. The remains were eventually looted, but the urn remains. It is not known how her shrine became popular with gamblers, among others.

The Ma Zu or Mah Chor Temple was on OBS land and has since been demolished and relocated. "Ma Zu" means mother goddess or mother ancestor. Seafaring folks and fishermen pray to her for safety during their journeys. It is believed that the temple was originally sited at the mouth of the Serangoon River, near a fishing village where seafolk congregated. The temple was moved to Ubin when the Serangoon River area was being developed. In the 1990's it was relocated from Ubin back to its original location at the Serangoon River.

Tanjung Tajam Shrine previously located in the middle of a cavern formed out of large boulders at Tanjong Tajam, west of the main jetty of the Outward Bound School in Pulau Ubin. It was popular with worshippers who got there by boat and landed on a platform that had since been washed away by the sea.

Lotus Pond Temple just after the bridge over Sungei Jelutong, the temple was originally a shrine which was upgraded to a temple to accommodate the increasing numbers of worshippers. The temple was further extended to appease the spirit of a lady who died at sea. Surrounded by flowering plants, at the foot of the temple is a lotus pond that is a grand sight when the plants are in bloom.

Many people were laid to rest on Ubin. Graveyards and gravestones of both the Chinese and Malays remain on the island, often obscured by vegetation.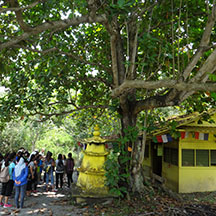 The German Girl's Shrine.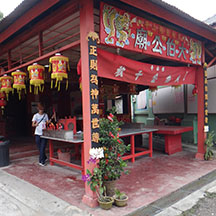 The Temple at Ubin Town.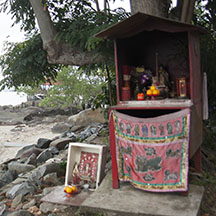 A shrine next to the beach.