Sentosa has a fabulous natural shore!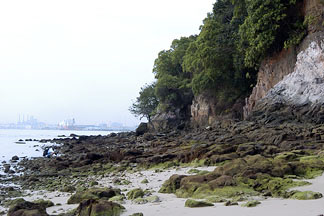 This marvellous shore lies beneath Fort Siloso,
between Underwater World and Rasa Sentosa.
Besides magnificent rocky structures and amazing coastal plants,
the shores teem with seagrasses, hard and soft corals
and all the usual creatures that can be found in such habitats.
A volunteer-effort was made to
scientifically survey the seagrasses of this shore on 15 Jul (Sat).
What happened?
on the wildfilms blog
Recce for the transect:
Siti, Ria, Shoop and Peter check it out
Get-together to prepare for the transect:
Volunteers gather to prepare!
Sentosa Seagrass Transect Day!
40 volunteers turned up to make this possible.
Some results so far
Results of the coastal plants survey
done by Mr Joseph Lai on his www.eart-h.com website
GIS map of the shore
done by Dr Durairaju Kumaran Raju
Preliminary
list of seaweeds and marine plants
and
animals
seen on this shore in past surveys is also now online.
Feedback
from participants (WinWord doc).
More
about the Sentosa Seagrass Transect.
As in
past surveys
, this effort relies entirely on volunteers.
More photos
of Sentosa's shores