Beaches and camping on Ubin
---
Mamam Beach was reinforced by a seawall and ringed by wooden railing after it was threatened with serious soil erosion in 1999. There are benches and tables and a nearby toilet.

Noordin Beach has white sandy beaches and a view of Johor across the Straits. It is a popular camping site. Noordin beach is now closed due to severe shore erosion there.

Jelutong campsite is near Ubin Town, west of Ubin Jetty, facing the mainland.

Ubin is a natural area and to protect this environment, there are guidelines for activities conducted at these camping sites. Some of these include not allowing campfires, littering, tying ropes/tent lines to the trees or cutting their branches. Jelutong Campsite has facilities to accomodate a campfire. Toilet facilities are available at all campsites but bear in mind that the water is not suitable for drinking or bathing.

From the NParks website: Camping permits are not required to camp at Jelutong and Mamam Beaches at Pulau Ubin. However, for safety reasons, campers are advised to inform the officers at Pulau Ubin Police Post on the day they are camping. If you intend to camp at Pulau Ubin with a group size of more than 20 people, please write to NParks_Public_Affairs@nparks.gov.sg to allow NParks to coordinate in case there are other large groups of campers on-site at the same time.

More tips for visitors.

Chek Jawa is probably the most famous shore on Ubin.

There are of course, other beaches on Ubin as well. Without facilities, they are truly wild and usually quiet and unspoilt. Please help keep them clean by bringing back your trash.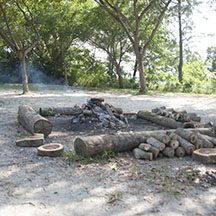 Campfire set up provided with
wood to use, at Jelutong campsite.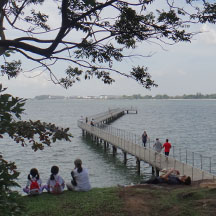 Enjoying the shore at Chek Jawa.