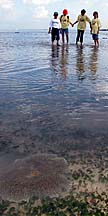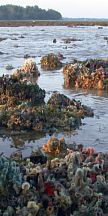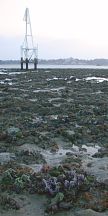 Chek Jawa
1ha intertidal flats with seagrasses, sand flats,
coral rubble surrounded by coastal forest and mangroves
with visitor centre, boardwalk and tower

---
Chek Jawa is an intertidal flat on Pulau Ubin, an island just off Changi Point.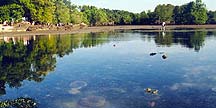 What's so special about Chek Jawa?
Chek Jawa is the largest natural intertidal flat in northern Singapore, and located on the eastern tip of Pulau Ubin. Chek Jawa is precious because several different ecosystems can be seen here in one small area. These provide refuge for plants and animals that are no longer common elsewhere in Singapore.



Coastal Hill Forest
The hill overlooking Chek Jawa is covered with trees and plants that shelter and feed a variety of animals. Many plants and animals in this coastal forest are no longer commonly seen on mainland Singapore. Some of the rare birds you may spot include the Oriental pied-hornbill and the Red junglefowl. The liquid bubbling song of the Straw-headed bulbul is often heard. Among the beautiful and unusual trees you may see are the Critically Endangered Delek air tree and the Seashore nutmeg. The new tower gives a panoramic view of Chek Jawa.

Mangroves
The mangroves of Chek Jawa have many interesting plants and animals. Mangrove trees have unusual shapes and properties as they are adapted to being covered in seawater at high tide and to grow in soft mud. The new boardwalk into the mangroves bring you close to these trees as well as the marvellous Nipah palms. Fiddler crabs and mudskippers are the highlight of a visit to the mangroves.

Rocky shore
Chek Jawa is among the few places left with a natural rocky shore, gravel beach and other interesting rock formations. At low tide, we can have a closer look at some of the strange animals that live here, including barnacles, crabs and fierce shell-drilling snails. Under the rocks are even more amazing animals such as living cowries, sea stars and fast flat crabs.

Sandy shore and sand bar
The sandy shore teems with tiny crabs which, if undisturbed, go about their amusing antics at low tide. The sand bar is the backbone of Chek Jawa and provides a home for all manner of intriguing creatures such as the sand dollar. The sand bar is also a popular rest stop for shorebirds that fly in from as far away as Siberia. Overhead, majestic birds of prey hunt for fishes in the sea.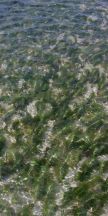 Seagrass lagoon
A calm, shallow lagoon lush with seagrasses and seaweeds form behind the sand bar. In the seagrass meadows, a rich variety of marine creatures shelter during the low tide. First-time visitors are often stunned by the carpet anemones which are bigger than your face and come in a stunning variety of colours. At some times of the year, the seagrass may be dotted with colourful sea cucumbers. Other seagrass dwellers include secretive crabs and snails. A lucky visitor may also encounter sea hares, squids and mantis shrimp.

Coral Rubble Area
The coral rubble area near the front beacon is probably the richest part of Chek Jawa and also the most fragile. Rarely exposed, even at low tide, this area shelters delicate sea creatures that prefer to be submerged most of the time. The big red Knobbly sea star is a favourite! Others include sponges in bewildering shapes and colours, delicate fan worms and even living corals! Octopuses, seahorses, nudibranchs and colourful flatworms are some of the other amazing residents of this special part of Chek Jawa.

No poaching please
Please do not remove any wildlife from the shore. Poaching of hard corals and other sealife threatens this precious shore. Please do not poach. Report poachers to NParks at 1-800-4685736.

More about guided tours on Chek Jawa.

Boardwalk and facilities quick facts
Opened in 2007, the boardwalk at Chek Jawa is open daily 8.30am to 6pm, admission is free. Facilities include a visitor centre at House No. 1, a viewing jetty that overlooks Pulau Sekudu, a 1.1km boardwalk through mangroves and the coastline and 20m Jejawi Tower with a panoramic view of Johor, Pualu Tekong and Singapore mainland. See map of the boardwalk. Here's more photos of the boardwalk.

No cycling on the Chek Jawa boardwalk as the 'planks' are made of concrete and cycling will fracture them. Bicycles are to be parked at designated bicycle park area near Punai Hut about 50m from the Visitor Centre (ask for a bicycle lock if you are renting your bicycles on Ubin). Vans can be hired from Ubin Town and will drop off visitors at Punai Hut as well. More details on the NParks website

More tips for visitors
More on how to get to Pulau Ubin, and from there to get to Chek Jawa.
More about preparing for a trip to the shores
More FAQs about visiting the shores
How to take photos on the shores.