wild people: Chay Hoon
I first met Chay Hoon as a Chek Jawa volunteer guide. She became among the most dedicated and regular guides and a tour with her is a joyful discovery of this wonderful place. Chay Hoon also became a regular Beachflea and we explored many shores together at ungodly hours.

It was thus almost natural that Chay Hoon should volunteer on the wildsingapore wildfilms team, to our great relief. She is our Best Sound Woman, in charge of picking up all the sounds that go with the sights.

Her keen eye is also key in getting great footage; she can be counted upon to find the spectacular creatures that escape the rest of us.
Chay Hoon's quiet cheerful presence on the team can be counted upon to keep us going in the hardest times. Thank you Chay Hoon.

Here is more about Chay Hoon in her own words ...

How did you first get involved in working for nature in Singapore?
I grew up in a Kampong and thus trees, insects and animals have been companions when I was a kid. After shifting, there was hardly any tree to climb and insect to catch and lost contact with nature due to study and work.

Until recently last year, I was surfing the website, habitatnews, and came across the link to wildsingapore. From there, I got to know that it is recruiting volunteers for Chek Jawa and I signed up. So there you have it, I am back with nature again.

What do you get out of working for nature?
I got to meet people who share the same interest/concerns for nature. I got knowledge from those who know more than me and I get to pass them on. In addition, I feel great and relax; spending time with nature after a busy week working.

What is your approach/personal motto in your work?
Don't Worry Be Happy. Because you will never enjoy sunshine if you are to spend a whole life waiting for the storm. Troubles are not here to stay. They will go away. And as George Washington put it; "Worry is the interest paid by those who borrow trouble", it is costly.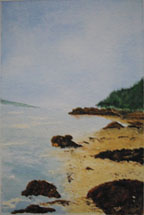 What are some of your current projects?
I am involved in the making of a documentary about our intertidal shores as well as a volunteer guide at Chek Jawa, Pulau Ubin.

What are some of your other interests?
I started picking up watercolour painting about 4 years ago as a hobby and am still learning. I like the unpredictable nature of this medium as sometimes you can even get a satisfying result from a mistake. The main subject is landscape and I have done a piece on Chek Jawa's rocky shore too.



---
Chay Hoon is 27 and she is an accountant by profession. She currently volunteers as a guide at Chek Jawa and with the wildfilms project.
---
Posted by leykun Posted on 26/07/04 14:52
Chay Hoon is always there for the CJ public walks. Dedication is her middle name!

Posted by Ria Posted on 27/07/04 10:31
Indeed, I don't know what we would do without Chay Hoon. A ray of sunshine, the person who makes sure we get up in time and have all the gear with us, and always there for us. We are lost without you Chay Hoon!

Posted by Himawari Posted on 27/07/04 12:52
Hi Ria and Leykun, thank you. :o)

Posted by otterman Posted on 10/08/04 11:30
Wow, I am so glad to know she surfed Habitatnews. We never know who is accesing our internet resources out there, so we must just keep at it!
---
More on
how YOU can make a difference too...