Bored? Want to make a difference and have fun at the same time? Here are some on-going and up-coming activities in our wild forests to consider...



For ALL lovers
especially nature lovers :-)
Running out of ideas of where
to go with your girlfriend/boyfriend
or wife/husband?

Here's a chance to get down and dirty in the forest (pun intended)! Plant a tree together and watch it grow into the canopy!

In support of Romancing Singapore 2004, NParks and MCDS are jointly organising a "Tree Planting for Couples" activity!
Date: 13 Nov 04 (Sat)
Time: 9-11.30am
Where: Jering Trail (Central Nature Reserve) (the last track of boardwalk towards the golf course, parallel to Lornie Road).
Cost: $100 per couple.

Register by 31st Aug and receive a limited edition 'Romancing Singapore' set of perfume, for both him and her!

Removing Smilax
Smilax is a tough spiny climber that is not native to our forests. It grows so aggressively that it smothers existing forests and reforestation sites. Regular removal is needed to ensure our forests remain healthy.

With the right attitude :-) this can be a fun activity and a good workout to have with your family or friends. The pictures on the right show people of all ages and from all walks of life, joining in the Battle to Beat Smilax.

This fun and meaningful activity usually takes place on a Saturday mornimg, from 9.00am to noon.



Study on reforestation
NParks needs volunteers to help with their reseach project to evaluate the success of our reforestation programme and to develop better techniques for forest restoration. This project is done in collaboration with the Centre for Tropical Forest Science (Smithsonian Tropical Research Institute and the National Institute of Education).

The work involves, mapping plots, measuring, tagging and identifying planted saplings. Work will be mostly on weekdays mornings (Wed-Fri), although saturday mornings can be arranged as well if there are enough interested volunteers. Work is currently on the plot at Casuarina Road, off the junction of Thomson Road and Yio Chu Kang Road.

For more information or to register for any of these activities, drop Genevie an email at Genevie_CHUA@nparks.gov.sg or call her at 65545127.

For more on what you can do to make a difference for nature
ANYONE and EVERYONE
can make a difference
for our forests!
and have fun doing it too!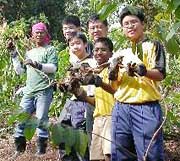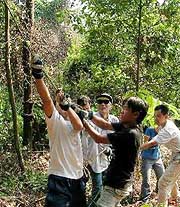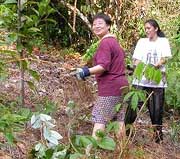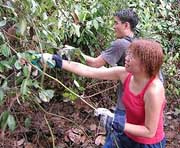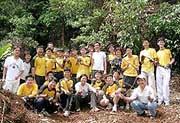 Photos by Derek Liew