NOT just about picking up litter
The ICCS project is NOT just about picking up litter. Detailed data is also tabulated on the debris collected; every straw, cigarette butt is counted and weighed. This data provides solid information to raise awareness on marine debris issues. As well as to encourage positive change in individual behaviour and government policy.

What does the data tell us?
It can hint at the scale of the problem: More than 54,000 items of litter weighing more than 700kg were collected from less than 25% of our shoreline in a single day in 2001. Preliminary and conservative estimates suggest almost eight million pieces of marine trash weighing more than 1,000 tonnes may be washing up on our shores each year.

It can hint at the source of the problem: the combined data suggests that for Singapore, more than 60% of this trash is coming from shoreline activities. No, it doesn't wash up from litter tossed in Africa :-)

It can hint at the solution: The solution points to the average Singaporean and begins with personal initiatives. In 2001, the top 6 most numerous items collected were: cigarette butts, foam pieces, plastic bags, straws, plastic pieces and bottles.

Are you a sucker? People who participate in an ICCS generally never again use drinking straws (after age 4 most of us should no longer need to suck our drinks).

Support for broader solutions: Currently, more than 70 countries participate in the International Coastal Cleanup, submitting detailed country reports to the Ocean Conservancy, USA, a marine conservation group. With international data sets stretching back 14 years, they are able to make representation to the United Nations about the global problem, and to push for laws and enforcement against dumping trash in the ocean.

More details about the ICCS data collected for 2003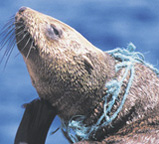 How does
marine litter hurt?
Killer Litter: Besides being unsightly, litter actually kills. Turtles and whales eat jellyfish and often mistake plastic bags and party balloons floating in the water for these titbits. Similarly, plastic bottles are mistaken for cuttlefish, and plastic bits are mistakenly eaten by sea birds. Such a diet can kill these creatures. Drifting rope, fishing lines and disused nets strangle and kill sea birds, turtles and fish.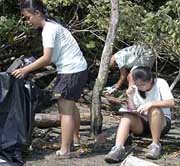 Meticulous data is recorded
upon collection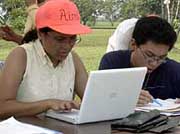 All data is compiled and
collated in the field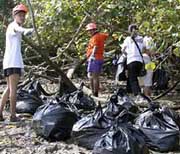 It is a huge job!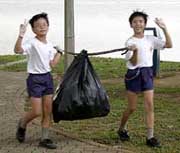 But that doesn't mean
we can't have fun doing it :-)
Photos by Kelvin Lim
Taken from the ICCS website