wild people: Angeline

I keep bumping into Angeline in all kinds of nature activities. From volunteering in research work, guiding, to organising clean ups of the mangroves. One of the biggest challenges to our wild places is finding young leaders who can organise other volunteers. Quietly dedicated, Angeline is among the few young volunteer leaders who is making a big difference.

Among Angeline's projects is the up-coming International Coastal Cleanup Singapore on 18 Sep 04. Here's more about ICCS, why it is MORE than just about picking up litter.

Angeline volunteers extensively through the Raffles Museum of Biodiveristy Research (RMBR), working closely with Siva.

Here's what Siva shared about Angeline: Angeline has toiled through many nights on numerous museum projects – the Biodiversity Symposium, opening of the Public Gallery, surveys at Chek Jawa, Pulau Tekong, Mandai, coastal cleanups, Toddycats recruitment and has managed numerous mailing lists for me.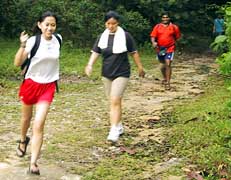 But in my mind's eye I always recall this image of a fleet-footed Angeline running through the forest, head to tail of a long contingent to verify man-counts during the public briskwalk series.

Industrious and reliable, whenever she threw her weight behind a project, her field and admin skills contributed significantly to success. Coupled with an unassuming manner and good humour, her companionship has eased many tough situations. Her fleeting form behind many projects hardly reflects the source of considerable strength she has provided me on many projects.

A requirement of the Raffles Museum Toddycats has moved her beyond her helpful background roles to front-line responsibilities as Deputy Coordinator for the International Coastal Cleanup Singapore 2004. If she finds a team half as supportive as she been all these years, it'll be a piece of cake!

Here is more about Angeline in her own words ...

How did you first get involved in working for nature in Singapore?
In 2000, I did a mini project on tree-climbing crabs and fiddler crabs for an invertebrate biology module. Through this project, I got to know Zeehan, Yandi and Siva who taught me most of what I know about the mangroves ecosystem.

Zeehan and Yandi were the ones who first brought me to Pasir Ris mangroves and taught me how to catch fiddler crabs with my bare hands! My acquaintance with Siva led me to volunteer for the Raffles Museum of Biodiversity Research (RMBR).

Through Siva and the RMBR, I was exposed to many nature-related projects, such as the Chek Jawa "salvage" operation, Pulau Tekong survey and ICCS etc.

What do you get out of working for nature?
I love going out on field trips! All my times spent in the mangroves / intertidal areas are very satisfying and enriching experiences. I am also touched and inspired by how nature volunteers like Siva, Ria and Zeehan have given selflessly and very generously to ensure the completion of projects they strongly believe in.

What is your approach/personal motto in your work?
Siva alone has been instrumental in shaping my views on conservation and nature-related efforts. In all his projects, he seeks to educate and benefit the public, raising greater awareness to help protect our remaining resources, and he does all these with no expectations of monetary gains or recognition.

What are some of your current projects?
13th International Coastal Cleanup, Singapore (2004) happening on Saturday morning, 18th September 2004 at beaches and mangroves around Singapore! This event is coordinated by RMBR and Nature Society (Singapore). Come join us!
For more details, see the ICCS website
Or contact me at angeline@sivasothi.com to participate.

---
Angeline is 24 and she currently a full-time trainee teacher at the National Institute of Education (NIE). She volunteers as a Raffles Museum of Biodiversity Research Toddycat.
---
More on
how YOU can make a difference too...