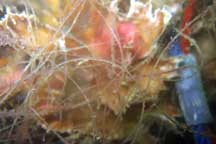 Recently, a few marine researchers
noticed during a research dive, a drift net
off Lazarus island. With a few other volunteers, and on their own personal
time, they decided to take out
the net early this week.
It was hard work. Hard on the back
and hard on the heart.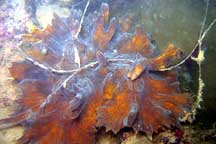 It is heartbreaking to see all
the creatures that caught in the net.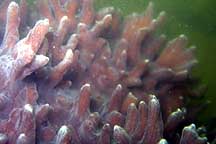 These include fragile corals. The abrasion from movement of the nets injure/kill the polyps. And injured parts of corals get overgrown with algae/other organisms very fast (especially in Singapore waters where the rate of algal growth is very high).
The drift net also traps countless crabs, fishes and all manner of sea creatures.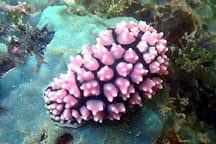 More than 90% or more of these creatures will simply be thrown back dead into the sea; for the few that the drift-netters find marketable.
Drift netting is among the
most damaging ways to harvest the sea.
It is banned in many countries.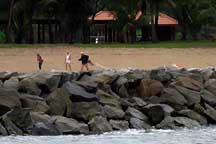 In Singapore, it is not uncommon to come across drift nets on many of our already fragile shores. Here are some
drift-netters on Kusu Island.