Here's your chance to make a BIG difference! Instantly!

Adelle and the Ubin volunteers have started a new project to record the oral history of Ubin through the words of the remaining villagers. This project will include video-taping and penning down of the interview with the villagers each week.

Adelle needs individuals who are either interactive, creative, OR familiar with video editing. Volunteers from all age groups, all races, all dialect groups (Hokkien & Teochew & Malay especially) are welcomed to join her.

Adelle has personally done a couple of interviews with the villagers and there are so many interesting things that she's learned of, from them. There's so many things to find out and yet so many questions that she could not ask due to being billingual only.

Here's what Adelle has to say about the project so far...

Mdm Ang Siew Eng
The interview with Mdm Ang Siew Eng from Jelutong (near to the Marina Country Club) was a smooth and enjoyable one. Thank God I have Joseph Liu and Alyce Ang who are versatile in Hokkien, Teochew and Mandarian helping me.

Alyce even received some home-grown long beans and greens from Mdm Ang to bring home.

Mr Tan Leong Kiat
The second interview was with Mr Tan Leong Kiat from Jelutong. Mr Tan speaks Hokkien and understands simple Mandarian. He grows plenty of fruit trees and plants with Medicinal purposes.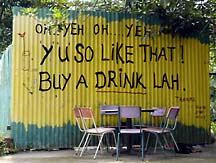 Those of you who've recce Ubin on your bicycle would know the stall with the advert, 'Oh yeh, Why you so like that, get a drink lah!'

Mr Tan is the owner who looks much younger than his actual age and is fitter than most of us. He is one of the Ubin elderly who leaves the warmest and friendly impression. The four of us had a wonderful time listening to stories of Ubin 26 years ago. This was one of the moment when we felt that we've missed out so much.

We have been expecting a 2-week-plus-old volunteer, Evelyn Ong joining us for the interviews. Everyone who has met her agrees that she is so enthusiatic and approachable that she doesn't even seems new to the group! I believe she'll be looking forward to meet other ubin volunteers who's just as enthusiastic (actually 99.9% of the vounteers are).

Make your difference to Ubin...
The scheduled interviews are held every Tuesday or Thursday and would normally take a couple of hours.
If Adelle has enough volunteers to team up for the interview, weekend interviews could be arranged.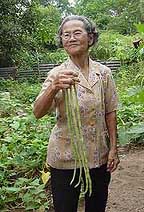 Mdm Ang has a fabulous
vegetable garden with lots of
delicious vegies!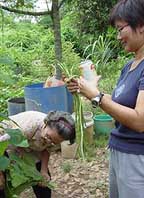 Lucky Alyce gets some
fresh greens!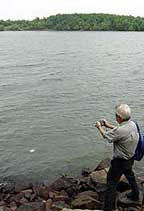 The priceless view from
Mdm Ang's backyard!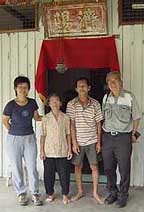 Alyce, Mdm Ang, her son, Joseph

Photos by Adelle